Hi there Sweet Jeanette fans! I'm Lin and I blog at
Our Someday Family
. OSF started out as a place to chronicle (and sometimes virtually scream and cry about) our journey through inertility. Now that our miracle little man (LMH for short) is here, I blogs about baby stuff, mommy stuff, work stuff, friend stuff, life stuff...random stuff! Lately, I've been spending a lot of time blogging about how grateful I feel as I look
back
on our journey to
now
. It's a little bit homespun, a little bit of venting and a lot of love. I hope you'll come spend a bit of time with our family soon! In the meantime, please check out my recipe for Gingered Orange Shortbread Cookies and a fun way to turn them into Christmas gifts. They're husband and coworker approved!
I love to bake, but I'm not a particularly good baker, at least not from scratch. When I was on maternity leave, I decided to try to perfect my baking skills in between naps, bottles and diaper changes. Some things turned out wonderfully, others not so much. The best example of "never to be baked again?"
French Macaroons
(if it came from Martha Stewart, I should have known it would never work for me!). The best example of "I'd make this again in a heartbeat?" Gingered Orange Shortbread Cookies.
It was my first attempt at shortbread, but as soon as I made them, I knew I'd be making them again and again. They're delicious and perfectly Christmas-y with a combo of ginger and orange. Then, when I found the story of
"The Christmas Orange"
I knew I had the perfect gift combo for my work colleagues this year!
My shortbread recipe is a conglomeration of the best things from the original
Gingered Orange Shortbread
and this
Rosemary Chocolate Chip Shortbread
from Melissa d'Arabian (also delicious, I might add). Shortbread is ridiculously easy. Even if you've never made a successful baked good in your life, you should try shortbread! It's just butter, flour, sugar and whatever "mix-ins" you decide to add. Seriously, SO very easy!
Here's the cast of characters (full recipe at the end of the post):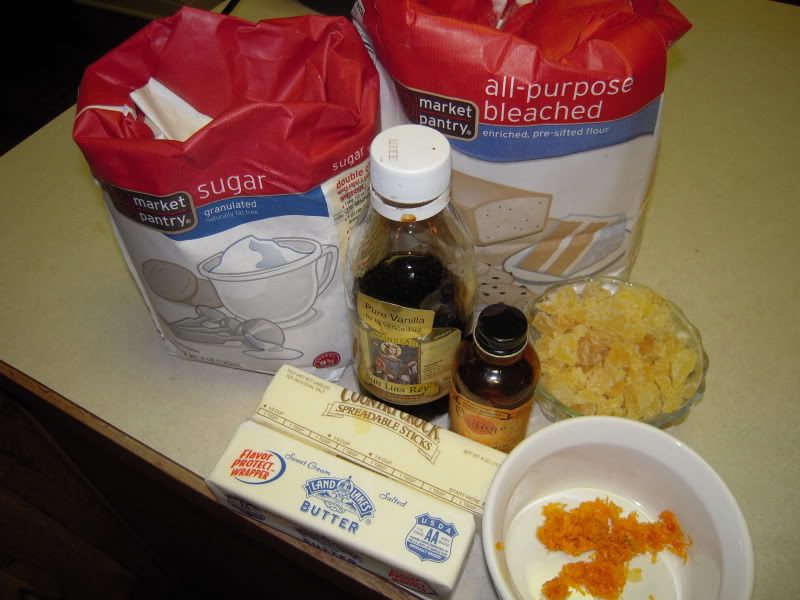 Flour, Sugar, Butter, Vanilla, Orange Extract, Candied Ginger, Orange Peel
(Note, I left the salt out of the cast of characters! And, yes, that is Country Crock Spreadable Margarine. The Hubby grabbed that by accident at the store last week and I didn't realize until it was time to back. Serioulsy, though, these cookies are foolproof! They turned out just fine!)
 1) First, you cream the butter and sugar.
Seriously, who doesn't love a big bowl of butter and sugar?
 2) Next, add your extracts. I use vanilla and orange for this recipe.
3) Once the extracts are incorporated, add the flour, ¼ cup at a time, and the salt. Then, add your mix-ins (candied ginger and orange peel, in this case).
4) Beat until a dough ball forms. Divide the dough ball into two halves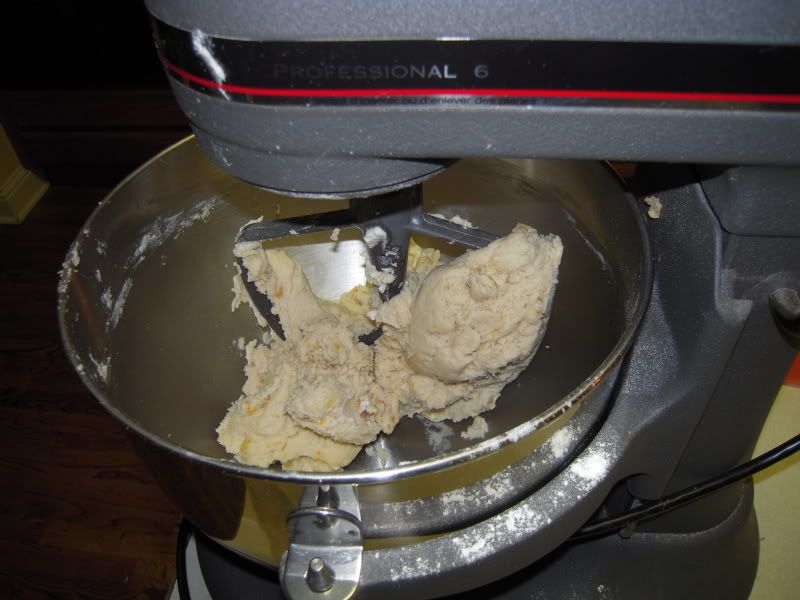 It's done when the dough ball pulls away from the sides of the bowl like this!

5) Truth be told, I don't even own a rolling pin. I just use my hands to roll logs the length of my cutting board. You may want to place a few sprinkles of flour on your rolling surface, but I've never had any trouble with the dough sticking to these cutting boards.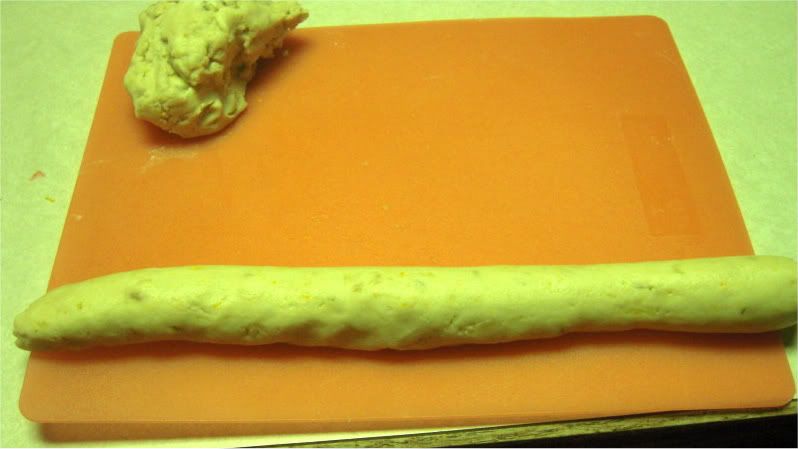 These are my absolute favorite cutting boards...from Ikea!
6) Wrap in foil and refrigerate shortbread logs for at least 1 hour.
7) Cut into ¼" slices. Place on baking sheet.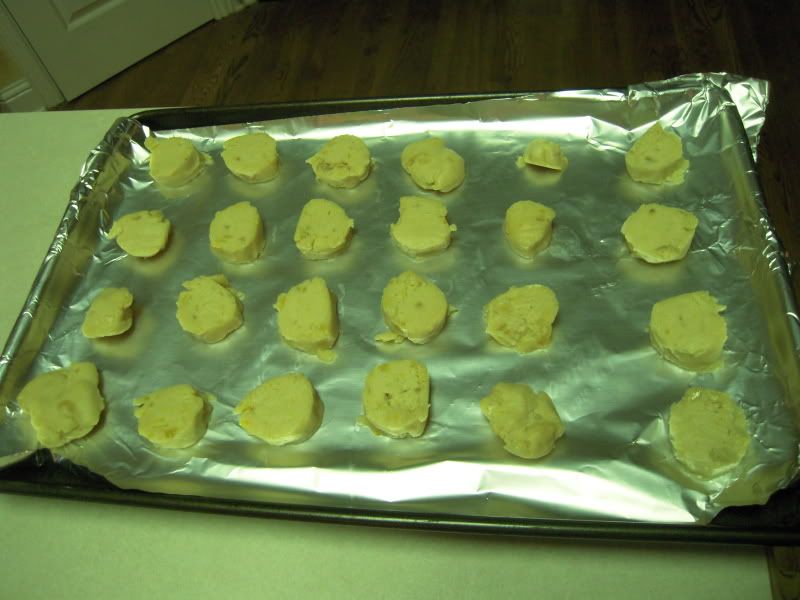 Nonstick foil is your friend!
 8) Bake for 20 minutes. Let cool and ENJOY!
Next I had to incorporate the Christmas Orange Story in some way. I had originally envisioned a gift tag that had both the story and the recipe on it, but I couldn't fit the story on anything "tag" sized. And, I'm not an Illustrator/InDesign whiz, so I ended up just creating a card in Publisher. The Christmas Orange Story and the recipe are on the inside. Easy-Peasy! Here's the final gift: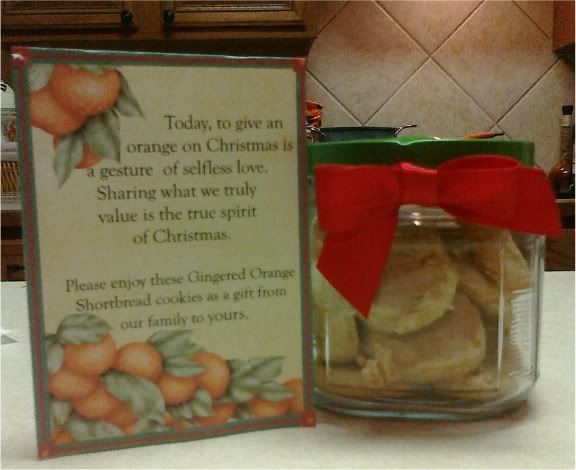 And, as a bonus, be sure to tell your friends that they're AWESOME with
Nutella
, too! I've even had them crushed up on top of vanilla ice cream. Yum!

Mmmmmmmm!
However you decide to eat your Gingered Orange Shortbread, be sure you share some, too! After all, if giving an orange at Christmas is an act of selfless love, what better way than in a cookie!
Enjoy and Merry Christmas!
Gingered Orange Shortbread
1 cup unsalted butter (2 sticks), softened to room temperature
1/2 cup sugar
1/2 cup candied ginger, chopped
1 teaspoon salt
2 cup all-purpose flour
3 tablespoons orange zest
2 tablespoon orange extract
1 tablespoon vanilla extract
Preheat oven to 300° F.
Cream butter. Cream together sugar and salt with the butter and then stir in the ginger pieces, orange zest, vanilla and orange extract. Mix in the flour just until the dough comes together. Form into two logs, wrap in foil and refrigerate for one hour or more until the dough is firm. Cut into 1/4″ slices and place on a foil or parchment lined cookie sheet. Bake at 300° F for 20-25 minutes, being careful not to let the edges burn. Allow to cool on the cookie sheet.